Excursion to Berlin, October 2013
Tourism Development Studies
Our first excursion in the master's program "Tourism Development Strategies" (TDS) brought us to Berlin for one week in mid-October 2013. As part of the courses "Innovation & Knowledge Management" as well as "Leadership & Managing Change " we were to visit five companies together with Prof. Dr Adjouri and three companies with Prof. Dr Rothlauf.
Monday began with a corporate and factory tour at the Procter & Gamble Manufacturing GmbH in Berlin-Tempelhof. Ms Dietrich from the PR and marketing department and Dr Man working in quality management presented to us the leading brand for men's and women's razors – Gilette – as well as the entire P&G Manufacturing GmbH. The company's goals, its motivations and the future vision of the P&G group played a special role in that. Afterwards we were able to observe the internal working processes of the razor blade production during a detailed factory tour. Monday afternoon was then completed with a discussion on the recruitment processes of P&G as well as possibilities for master theses in the company. At the end of the day we were even allowed to take a sample razor home, to convince ourselves of the excellent Gilette quality.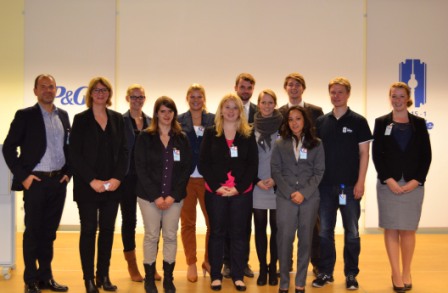 Tuesday morning took us from our hostel near Alexanderplatz to Rudow in Southern Berlin to the online company reBuy reCommerce GmbH. Founded in 2004, the start -up reseller buys used goods, such as DVDs, CDs, books, cell phones, gaming consoles and eBook readers and resells them on their web platform rebuy.de. Ms Fuchs from the PR department and Ms Eisert from brand management gave us an interesting insight into the young company history and showed us the in-house logistics centre. On average, 1.3 million items are stored in the 10,000m² warehouse where approximately 12,500 parcels are processed every day.
In the afternoon we went to our next meeting at the Berliner Kindl - Schultheiss brewery Radeberger Group in Northern Berlin. After an interesting and detailed brewery tour with Mr Rohde, Mr Grupp, director of marketing and PR, welcomed us warmly for a presentation of their main local brands "Berliner Kindl", "Berliner Pilsner" and "Schultheiss". Showing his long-time experience in marketing, he gave us a deep insight into the various branding and positioning strategies of their brands. After that we were invited to try the quality of these three beers during a tasting.
Subsequent to these interesting company visits we spent a relaxed evening together with Prof. Dr Adjouri at the Heimathafen Neukölln theatre enjoying a "Poetry Slam".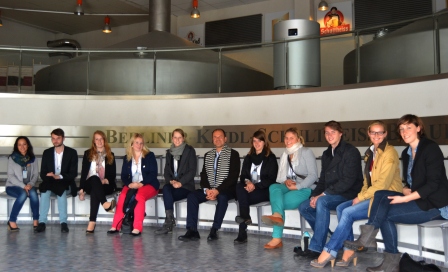 On Wednesday, our last day regarding our course "Innovation & Knowledge Management", we went to Airberlin topbonus, the rewards program of Airberlin. Current student interns and trainees welcomed us friendly and introduced to us the bonus program in the presence of the Managing Director Mr Puffer and the Key Account Manager Ms Schmidt, a former graduate of our TDS master's degree course. The subsequent panel discussion on the "business model of frequent flyer programs" and the tour of the Airberlin showroom concluded this company visit successfully.
In the afternoon the online shopping club brands4friends, a subsidiary of the Ebay Group, was next on our agenda. Ms Gellrich, responsible for PR and communications, presented to us the different departments of the company that employs approximately 200 people. Showing us the different steps of how a product goes online, we got a comprehensive overview of the individual operations of the company. Eventually, in a following presentation, the marketing manager Mr Abrosov explained to us the development of the brand "brands4friends".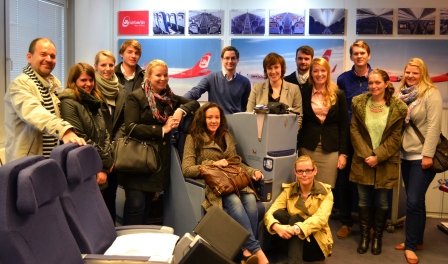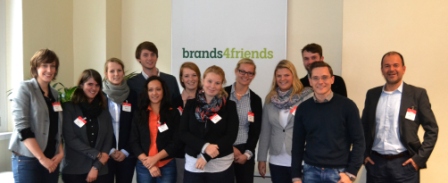 Thursday and Friday, 17-18 October 2013, were scheduled for business appointments relating to the course "Leadership & Managing Change". These meetings had a slightly different character focussing on human resource management, leadership styles and leadership development. The administration of Berlin Brandenburg Airport (FBB) located at the airport Berlin-Schönefeld was our first destination on Thursday morning. Mr Baer, director of personnel policies, and Ms Beims, consultant for change management, illustrated the goals and approaches of staff development at FBB in a comprehensive presentation. It was especially interesting to learn about their concept of a "Leadership Compass", the development tool for employees and managers at the FBB. After an informative discussion we were surprised with a lunch invitation which we pleasantly accepted.
The last company visit with the entire master group took place at Germany Trade & Invest (GTAI).
Dr Hermann kindly welcomed us opening a very interesting discussion about the successful management of GTAI and the positive effects of different leadership styles.
With these educationally and professionally inspiring impressions the majority of the students completed an intensive week in Berlin. However, the two male course members stayed in Berlin for another day as a further appointment could be set with Tele Columbus.
Friday afternoon we met the Chief Operating Officer of Tele Columbus Mr Schickel at the Tele Columbus Tower. During the interview, he told us how he has been developing employees and forming new leaders for the past 27 years in this company. Such an individual story is what motivates us to strive for a future as prospective managers in leading positions.
To sum up, we can say that through all our company visits we gained a comprehensive and instructive insight into the management of various industries. These experiences are very valuable to us and will certainly be useful for our future careers.
We thank Prof. Dr Adjouri and Prof. Dr Rothlauf for the excellent planning and organization of this excursion!